Iceland
Posted by Simon Laroche
, March 18, 2007 at 11:02:31 ::
Iceland
Iceland
, officially
the Republic of Iceland
(Icelandic: Ísland or Lýðveldið Ísland; IPA: ˈliðvɛltɪð ˈislant) is a country of
northwestern Europe
, comprising the
island of Iceland
and its outlying islets in the
North Atlantic Ocean
between
Greenland
,
Norway
, the British Isles, and the
Faroe Islands
.
As of
December 2006
, it had a population of
307,261
. Its capital and largest city is
Reykjavík
. (source: Wikipedia)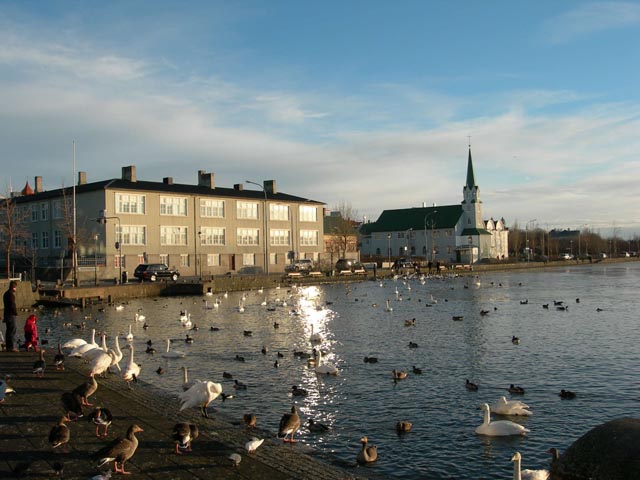 Iceland
is cold, and so are its lakes.
Jökulsárlón
is the best known and the
largest of a number of glacial lakes in Iceland
. It is situated at the south end of the
glacier Vatnajökull
between
Skaftafell National Park
and
Höfn
. Appearing first only in 1934-1935, the lake grew from
7.9 km²
in 1975 to at least
18 km²
today because of heavy melting of the Icelandic glaciers. Approaching a depth of
200 m
, Jökulsárlón is now probably the
second deepest lake
in
Iceland
. (source: Wikipedia)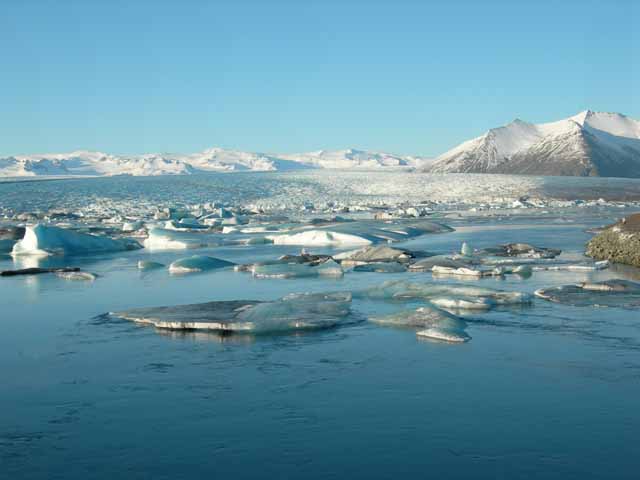 Visit
Jökulsárlón
, and
Iceland
, and more, now on
Landolia
!
---
In The News
Reykjavik: The Capital of Cool, Iceland
Posted by Simon Laroche
, June 30, 2007 at 21:48:53

Reykjavík
, also known, as "smoky bay", located in southwestern
Iceland
on the southern shore of Faxaflói Bay, founded by a Viking called Ingólfur Arnarson, is the capital of Iceland (Ísland), its largest city and the world's most northern national capital.
Reykjavík, the heart of Iceland's economic and governmental activity with a population of more than 117,000, is the centre of the Greater Reykjavík Area which, with a population of more than 190,000, is by far the largest metropolitan area of Iceland. The world's northernmost capital is framed by the majestic Mt. Esja (914 m), which keeps a watchful eye on the city. The hills Öskjuhlíð and Skólavörðuholt seem to be the remains of former shield volcanoes which were active during the warm periods of the Ice Age.

Reykjavík has everything large cities have to offer. Several cultural and social events and various recreations are available. Not to forget interesting museums, galleries, delightful restaurants and cafés. Reykjavík's unique proximity to nature, with Elliðaá River, which is not navigable by ships, but one of the best salmon fishing rivers in the country, a thermal beach at Nauthólsvík, green valleys and outdoor swimming pools, numerous geothermal springs, running beneath the city, provide almost all the heating and water in the city. Everything visitors would want to see is handily located within walking distance.
The city has a very wet climate, having an average of 213 rainy days every year, and with winds and rain blowing in from the sea. The average mid-winter temperatures are no lower than those in Toronto or New York City because the Icelandic coastal weather is moderated by the warm waters of the Gulf Stream. Still, winters are long and bleak, with just four hours of daylight on some days, although the chance to view the spectacular Aurora Borealis or Northern Lights makes up for this. Summer, by contrast, brings the famed midnight sun with the city's inhabitants at their most colourful and the streets taking on a much lighter atmosphere at night. Travellers should be aware, however, that the weather in Iceland can change quite suddenly from clear, bright sunshine to high winds and rainstorms, and back again, in minutes.

Sites of interest in Reykjavík include the
Hallgrímskirkja
(literally, the church of Hallgrímur) a 74.5 metres (244 ft) church and one of the tallest buildings in Iceland;
Alþingishúsið
(The Parliament House), a classical 19th century structure which stands by Austurvöllur in central Reykjavík; the
Blue Lagoon
(Bláa Lónið) geothermal spa;
Höfði
, the house in which Gorbachev and Reagan met 1986 for the Iceland Summit;
Kringlan
, the second largest mall in Iceland;
Laugavegur
main shopping street;
Nauthólsvík
, a geothermically heated beach;
Perlan
(The Pearl), a 25.7 metres (84.3 feet) high glass dome originally, designed by Ingimundur Sveinsson, resting on five water tanks situated on the hill Öskjuhlíð;
Ráðhús
Reykjavík (Reykjavík City Hall) situated by the Tjörnin;
Tjörnin
, the pond, a small lake in central Reykjavík; the
National and University Library of Iceland
(Þjóðarbókhlaðan); the
National Museum of Iceland
(Þjóðminjasafnið);
Árbæjarsafn
(Reykjavík Open Air Museum), Reykjavík's Municipal Museum and
Reykjavík 871±2
exhibition of an archaeological excavation of a Viking age longhouse, from about 930 AD.
---
UNESCO World Heritage
Posted by Simon Laroche
, June 06, 2012 at 16:03:11

Location Iceland
Coordinates N63 18 11 W20 36 8
Property 3,370 ha
Date of Inscription 2008
Brief Description (http://whc.unesco.org/en/list/1267

)
Surtsey, a volcanic island approximately 32 km from the south coast of Iceland, is a new island formed by volcanic eruptions that took place from 1963 to 1967. It is all the more outstanding for having been protected since its birth, providing the world with a pristine natural laboratory. Free from human interference, Surtsey has been producing unique long-term information on the colonisation process of new land by plant and animal life. Since they began studying the island in 1964, scientists have observed the arrival of seeds carried by ocean currents, the appearance of moulds, bacteria and fungi, followed in 1965 by the first vascular plant, of which there were 10 species by the end of the first decade. By 2004, they numbered 60 together with 75 bryophytes, 71 lichens and 24 fungi. Eighty-nine species of birds have been recorded on Surtsey, 57 of which breed elsewhere in Iceland. The 141 ha island is also home to 335 species of invertebrates.
Photos from Landolia
More photos and localization on interactive Google Map
---
Posted by Simon Laroche
, June 06, 2012 at 15:53:04

Location Bláskógabyggð municipality, district of Arnessysla, Iceland
Coordinates N64 15 13.7 W21 2 14.1
Property 9,270 ha
Date of Inscription 2004
Brief Description (http://whc.unesco.org/en/list/1152

)
Þingvellir (Thingvellir) is the National Park where the Althing, an open-air assembly representing the whole of Iceland, was established in 930 and continued to meet until 1798. Over two weeks a year, the assembly set laws - seen as a covenant between free men - and settled disputes. The Althing has deep historical and symbolic associations for the people of Iceland. The property includes the Þingvellir National Park and the remains of the Althing itself: fragments of around 50 booths built from turf and stone. Remains from the 10th century are thought to be buried underground. The site also includes remains of agricultural use from the 18th and 19th centuries. The park shows evidence of the way the landscape was husbanded over 1,000 years.
Photos from Landolia
More photos and localization on interactive Google Map
---