Lithuania
Posted by Simon Laroche
, April 24, 2011 at 10:32:18 ::
Lithuania
Kaunas (English pronunciation: /ˈkaʊnəs/; Lithuanian: [kɐˈunɐs]) is the second largest city in Lithuania, and has historically been a leading centre of Lithuanian economic, academic, and cultural life. Kaunas was the biggest city and the center of a powiat in Trakai Voivodeship of the Grand Duchy of Lithuania since 1413. During Russian Empire occupation it was the capital of Kovno Governorate from 1843 to 1915. It became the only temporary capital city in Europe during the Interwar period. Now it is the capital of Kaunas County, the seat of the Kaunas city municipality and the Kaunas district municipality. It is also the seat of the Roman Catholic Archdiocese of Kaunas. Kaunas is located at the confluence of the two largest Lithuanian rivers, the Nemunas and the Neris, and near the Kaunas Reservoir, the largest body of water entirely in Lithuania.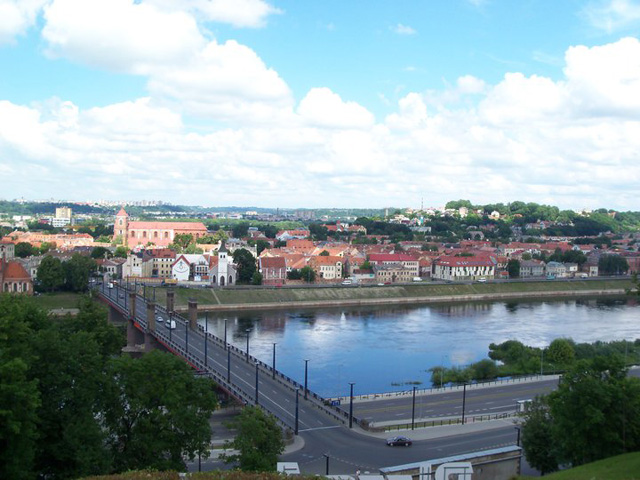 Kaunas has a population of around 330,000, as of early 2011.
Things to do in Kaunas:
- Siauliai Hill of Crosses
The Siauliai Hill of Crosses is quite a distance from Kaunas (more than 100 miles), but is close to the city Siauliai. The Hill of Crosses is well worth a visit. They are actually a couple of little hills and they litterally covered in crosses of all sizes. Some are 5 or 10 feet tall or even taller. Some are tiny little rosaries hanging from bigger crosses. Nobody knows how many crosses there are but a good guess is millions of crosses on the tiny bit of land.
- M. K. Ciurlionis Museum
One of the absolutely world class attractions in Kaunas is the M K Ciurlionis Gallery which is attached to the very dumpy (and underfunded, needing lots of repair) National Gallery. You walk through this leaky, creaky Soviet remnant (which in fact does still house some extremely cool linocuts and other beautiful pieces) to get to the very sleek and state-of-the-art museum which houses a very sizeable percentage of Mikalojus Ciulionis' life's works, the most fascinating of which are his fantasy series of watercolors which are extremely fragile and rarely are allowed to travel from this country.
- Kaunas Botanical Garden
Kaunas botanical garden has been significantly refurbished in the last few years. Situated around the XIX century manor and a dozen of ponds this 60 ha garden boasts tropical greenhouse, tulip-tree, ginkgo tree, magnolias (a must see them blossoming in May), huge collection of rhododendrons and many other attractions.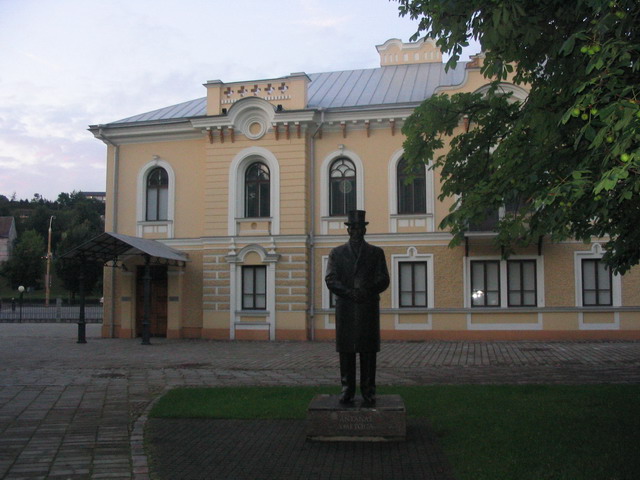 - Ninth Fort
The Ninth Fort in Kaunas, Lithuania was originally built as a defensive fortress in the years 1902–1913. During the Nazi occupation, over 50,000 people were executed here including over 30,000 Jews and over 10,000 foreigners.
The museum contains collections of genocide and holocaust, executed during Soviet's and Hitler's occupation, also are accumulated and protected historic materials of Kaunas strong hold and the 9th Fort.
And much more!
Visit
Kaunas
and
Lithuania
now on Landolia.
(Source: Wikipedia, TripAdvisor)
---
Posted by Simon Laroche
, January 20, 2008 at 14:52:16 ::
Lithuania
Vilnius
(['vilɲus]; also known by alternative names) is the
largest city
and the
capital
of
Lithuania
, with a population of 553,904 (850,700 together with Vilnius County) as of December 2005. It is the seat of the Vilnius city municipality and of the Vilnius district municipality. It is also the capital of Vilnius County.
Vilnius has also been known by many names in different languages throughout its history. Most notable non-Lithuanian names for the city include: Polish: Wilno, Latin: Vilna, German: Wilna, Yiddish: ווילנע (Vilne), Belarusian: Вiльня (Vilnia), Latvian: Viļņa. An older Russian name is Вильна / Вильно (Vilna/Vilno), although Вильнюс (Vil'njus) is now used. The names Wilno and Vilna have also been used in older English and French language publications.
The
Old Town
, historical centre of Vilnius, is one of the largest in Eastern Europe (360 ha). The most valuable historic and cultural heritage is concentrated here. The buildings in the old town - there are about 1.5 thousand of them - were built in a number of different centuries, therefore, it is a mixture of all
European architectural styles
. Although Vilnius is often called a
baroque city
, here you will find some buildings of gothic, renaissance and other styles. The main sights of the city are the
Gediminas Castle
and the
Cathedral Square
, symbols of the capital. Their combination is also a gateway to the historic centre of the capital. Because of its uniqueness, the
Old Town
of Vilnius was inscribed on the
UNESCO World Heritage List
.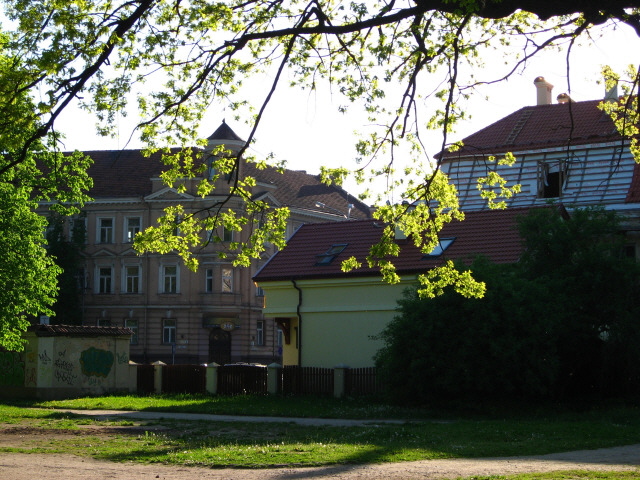 Vilnius is also the largest administrative centre in
Lithuania
with all major political, economic, social and cultural centres.
Vilnius is a hard city to pin down. It's not quite
Eastern European
, not quite
Scandinavian
, not
Russian
, and not
German
. It's not even quite
Lithuanian
. This ambiguity, the diversity of influences, actually gives the city its unique character and charm.
Visit
Vilnius
and
Lithuania
now on Landolia.
---
UNESCO World Heritage
Posted by Simon Laroche
, December 27, 2013 at 04:44:17

Location Vilnius county, Širvintos district, Kernave town, Lithuania
Coordinates N54 53 16 E24 49 50
Property 194 ha
Date of Inscription 2004
Brief Description (http://whc.unesco.org/en/list/1137

)
The Kernavė Archaeological site, about 35 km north-west of Vilnius in eastern Lithuania, represents an exceptional testimony to some 10 millennia of human settlements in this region. Situated in the valley of the River Neris, the site is a complex ensemble of archaeological properties, encompassing the town of Kernavė, forts, some unfortified settlements, burial sites and other archaeological, historical and cultural monuments from the late Palaeolithic Period to the Middle Ages. The site of 194,4 ha has preserved the traces of ancient land-use, as well as remains of five impressive hill forts, part of an exceptionally large defence system. Kernavė was an important feudal town in the Middle Ages. The town was destroyed by the Teutonic Order in the late 14th century, however the site remained in use until modern times.
Photos from Landolia
More photos and localization on interactive Google Map
---
Posted by Simon Laroche
, December 26, 2013 at 11:07:25


Location Klaipeda Region, Neringa and Klaipeda (Lithuania); Kaliningrad Region, Zelenogradsk District (Russian Federation)
Coordinates N55 16 28.488 E20 57 44.604
Property 33,021 ha
Date of Inscription 2000
Brief Description (http://whc.unesco.org/en/list/994

)
Human habitation of this elongated sand dune peninsula, 98 km long and 0.4-4 km wide, dates back to prehistoric times. Throughout this period it has been threatened by the natural forces of wind and waves. Its survival to the present day has been made possible only as a result of ceaseless human efforts to combat the erosion of the Spit, dramatically illustrated by continuing stabilisation and reforestation projects.
Photos from Landolia
More photos:
---
Posted by Simon Laroche
, December 26, 2013 at 10:30:07

Location City of Vilnius, Lithuania
Coordinates N54 41 12.012 E25 17 35.016
Property 352 ha
Date of Inscription 1994
Brief Description (http://whc.unesco.org/en/list/541

)
Political centre of the Grand Duchy of Lithuania from the 13th to the end of the 18th century, Vilnius has had a profound influence on the cultural and architectural development of much of eastern Europe. Despite invasions and partial destruction, it has preserved an impressive complex of Gothic, Renaissance, Baroque and classical buildings as well as its medieval layout and natural setting.
Photos from Landolia
More photos and localization on interactive Google Map
---