Madagascar
Posted by Simon Laroche
, November 14, 2006 at 08:22:23 ::
Madagascar
You probably know that
Antananarivo
is the capital of
Madagascar
island. But do you know what
this name means
?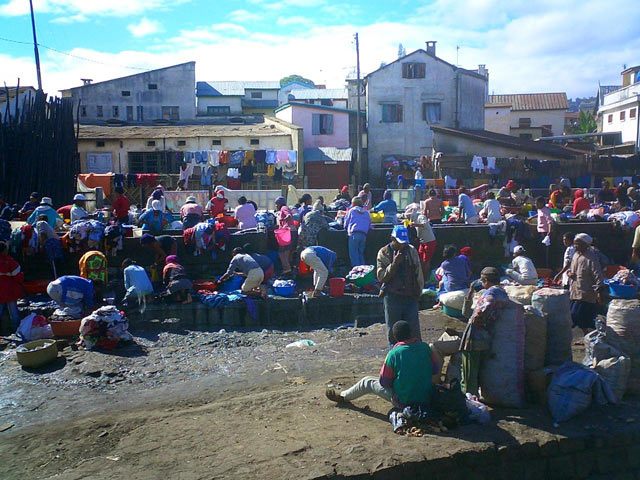 Antananarivo means "
The city of one-thousand warriors
". This name comes from an episode in Malagasy history. When King Andrianjaka, who had called his people the Merina (That can be translated into highlanders) occupied the twelve sacred hills (Ambohitratrimo, Ambohimanga, Ilafy, Alasora, Antsahadita, Ambohimanambony, Antananarivo, Ambohitrabiby, Namehana, Ambohidrapeto, Ambohijafy, Ambohimandranjaka) upon which Analamanga (where the forest is blue) was built, he had his royal palace and stronghold erected. One thousand warriors were quartered there and he called this city Antananarivo. In those days, the Merinas were divided into three castes : Andriana (nobility), Hova (plebeians), and Andevo (labourers) (source: escapeartist.com).
Nowadays, Antananarivo's population is around
1,4 million
inhabitants.
Visit
Antananarivo
and
Madagascar
on Landolia!
---
In The News
Madagascar
Posted by Simon Laroche
, September 17, 2006 at 15:36:31

Photo of the week:
Antananarivo is the capital of Madagascar, in Antananarivo province
Africa -
Madagascar
-
Antananarivo
-
Panorama
---
UNESCO World Heritage
Posted by Simon Laroche
, October 21, 2012 at 04:52:03

Location Centre Ouest, dans le Fivondronana d'Antsalova et le Faritany de Mahajanga, Madagascar
Coordinates S18 40 0.012 E44 45 0
Property 152,000 ha
Date of Inscription 1990
Brief Description (http://whc.unesco.org/en/list/494

)
Tsingy de Bemaraha Strict Nature Reserve comprises karstic landscapes and limestone uplands cut into impressive 'tsingy' peaks and a 'forest' of limestone needles, the spectacular canyon of the Manambolo river, rolling hills and high peaks. The undisturbed forests, lakes and mangrove swamps are the habitat for rare and endangered lemurs and birds.
Photos from Landolia
More photos and localization on interactive Google Map
---
Posted by Simon Laroche
, October 20, 2012 at 11:21:46

Location Madagascar
Coordinates S14 27 35 E49 42 9
Property 479,661 ha
Date of Inscription 2007
Brief Description (http://whc.unesco.org/en/list/1257

)
The Rainforests of the Atsinanana comprise six national parks distributed along the eastern part of the island. These relict forests are critically important for maintaining ongoing ecological processes necessary for the survival of Madagascar's unique biodiversity, which reflects the island's geological history. Having completed its separation from all other land masses more than 60 million years ago, Madagascar's plant and animal life evolved in isolation. The rainforests are inscribed for their importance to both ecological and biological processes as well as their biodiversity and the threatened species they support. Many species are rare and threatened especially primates and lemurs.
Photos from Landolia
More photos:
---
Posted by Simon Laroche
, October 20, 2012 at 06:08:13

Location Municipality of Ambohimanga Rova, Province of Antananarivo Avaradrano, Madagascar
Coordinates S18 45 33.012 E47 33 46.008
Property 59 ha
Date of Inscription 2001
Brief Description (http://whc.unesco.org/en/list/950

)
The Royal Hill of Ambohimanga consists of a royal city and burial site, and an ensemble of sacred places. It is associated with strong feelings of national identity, and has maintained its spiritual and sacred character both in ritual practice and the popular imagination for the past 500 years. It remains a place of worship to which pilgrims come from Madagascar and elsewhere.
Photos from Landolia
More photos and localization on interactive Google Map
---