Norway
Posted by Simon Laroche
, April 13, 2014 at 19:56:04 ::
Norway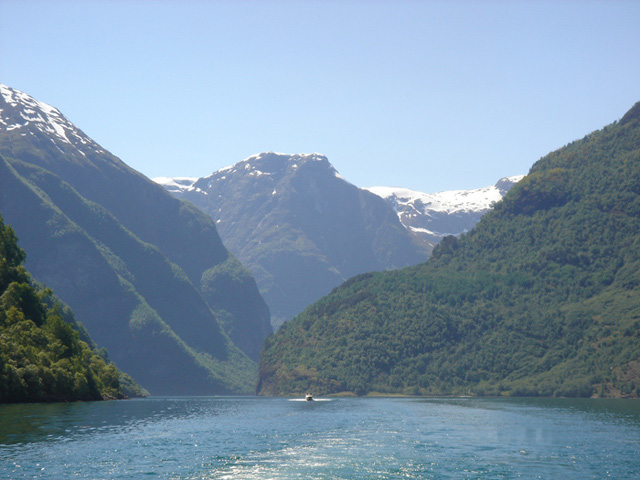 Harald V (born 21 February 1937) is the King of Norway. He succeeded to the throne of Norway upon the death of his father Olaf V on 17 January 1991. The son of the then-Crown Prince Olaf and of Princess Märtha of Sweden, Harald was born at the Crown Prince Residence at Skaugum, Akershus, Norway.
Norway (Norwegian: Norge (Bokmål) or Noreg (Nynorsk)), officially the Kingdom of Norway (a total area of 385,252 square kilometres and a population of about 5 million), is a Nordic unitary constitutional monarchy whose territory comprises the western portion of the Scandinavian Peninsula, Jan Mayen, the Arctic archipelago of Svalbard and the subantarctic Bouvet Island.
According to the Constitution of Norway, which was adopted on 16 May 1814 and inspired by the United States Declaration of Independence and French Revolution of 1776 and 1789, respectively, Norway is a unitary constitutional monarchy with a parliamentary system of government, wherein the King of Norway is the head of state and the Prime Minister is the head of government.
King Harald V is the current head of state and Jens Stoltenberg is the current prime minister. It is a unitary state with administrative subdivisions on two levels known as counties (fylke) and municipalities (kommuner). The Sámi people have a certain amount of self-determination and influence over traditional territories through the Sámi Parliament and the Finnmark Act. Although having rejected European Union membership in two referenda, Norway maintains close ties with the union and its member countries, as well as with the United States.
➜ Continue reading "Harald V, King of Norway"
---
In The News
North Cape, Magerøya, Norway
Posted by Simon Laroche
, September 23, 2007 at 14:04:45

North Cape
(Nordkapplatået), the very end of the world, is a cape on the island of
Magerøya
in northern
Norway
(2102.3 km from the North Pole (Nordpolen)), in the municipality of Nordkapp, on the side of the mouth of Porsanger Fjord. The plateau on the North Cape cliff, 307 metres above the sea, is Europe's northernmost corner, at 71°10°21° latitude and 25°47°40° longitude. However, the neighbouring point Knivskjelodden is actually some 1,500 metres further north. Nordkapphallen (North Cape Hall) is a visitor centre on the North Cape promontory.

The North Cape municipality's area consists of Magerøya island (436.6 km2 island in Finnmark county in the extreme north of Norway (Norwegian: Kongeriket Norge), in the community of Nordkapp) and the mainland around the mouth of Porsanger fjord, in all 924 km2. In addition to the municipal centre
Honningsvåg
, where is located the community administration office, there are 5 fishing villages: Repvåg on the mainland, as well as Nordvågen, Kamøyvær, Gjesvær and Skarsvåg where you can visit Kirkeporten, a natural arch. Through Kirkeporten you can see Nordkapphornet (the horn of North Cape).
Honningsvåg, situated at a bay on the southern side of Magerøya island, with its population of 2,575 was declared a city in 1996. Honningsvåg Airport (Norwegian: Honningsvåg lufthavn, Valan) is located 4 km outside the town. The main trade is fishing, shipping and tourism (such Nordkappmuseet / Nordkapp museum, if you wonder, for example, how people have managed to survive at 71 degrees north latitude for 10,000 years). Honningsvåg is also known for its active culture.
Skarsvåg
between Honningsvåg and North Cape is the norhernmost fishing village in Norway with about 100 inhabitants.

To accommodate the large amount of tourists visiting the island, a subsea tunnel was built from 1993 to 1999. The North Cape Tunnel (Noordkaaptunnel) runs under Magerøysundet from the mainland to Magerøya island. The tunnel is the second biggest submarine tunnel in the world (6870m long, 212m below the sea level). Before the tunnel was built, a ferry carried the traffic across the sound between Kåfjord and Honningsvåg.
The North Cape was named by English explorer Richard Chancellor in 1553 when he passed the cape in the search for a Northeast passage. From then on, it was occasionally visited by daring explorers who climbed the steep cliff face to the plateau; famous visitors include King Oscar II of Norway in 1873 and
Thailand
's King Chulalongkorn in 1907. Today, the North Cape is a major tourist attraction with tourist centre that houses a number of exhibits on the Cape's history.
---
UNESCO World Heritage
Posted by Simon Laroche
, January 09, 2014 at 10:54:52

Location City of Bergen, County of Hordaland, Norway
Coordinates N60 23 49.992 E5 19 23.016
Date of Inscription 1979
Brief Description (http://whc.unesco.org/en/list/59

)
Bryggen, the old wharf of Bergen, is a reminder of the town's importance as part of the Hanseatic League's trading empire from the 14th to the mid-16th century. Many fires, the last in 1955, have ravaged the characteristic wooden houses of Bryggen. Its rebuilding has traditionally followed old patterns and methods, thus leaving its main structure preserved, which is a relic of an ancient wooden urban structure once common in Northern Europe. Today, some 62 buildings remain of this former townscape.
Photos from Landolia
More photos and localization on interactive Google Map
---
Posted by Simon Laroche
, June 12, 2012 at 14:40:29

Location Nordland, Vega, Norway
Coordinates N65 37 0.012 E11 45 0
Property 103,710 ha
Date of Inscription 2004
Brief Description (http://whc.unesco.org/en/list/1143

)
A cluster of dozens of islands centred on Vega, just south of the Arctic Circle, forms a cultural landscape of 103,710 ha, of which 6,930 ha is land. The islands bear testimony to a distinctive frugal way of life based on fishing and the harvesting of the down of eider ducks, in an inhospitable environment. There are fishing villages, quays, warehouses, eider houses (built for eider ducks to nest in), farming landscapes, lighthouses and beacons. There is evidence of human settlement from the Stone Age onwards. By the 9th century, the islands had become an important centre for the supply of down, which appears to have accounted for around a third of the islanders' income. The Vega Archipelago reflects the way fishermen/farmers have, over the past 1,500 years, maintained a sustainable living and the contribution of women to eiderdown harvesting.
Photos from Landolia
More photos and localization on interactive Google Map
---
Posted by Simon Laroche
, June 12, 2012 at 13:35:44

Location Norway
Coordinates N61 17 60 E7 19 59.988
Date of Inscription 1979
Brief Description (http://whc.unesco.org/en/list/58

)
The wooden church of Urnes (the stavkirke) stands in the natural setting of Sogn og Fjordane. It was built in the 12th and 13th centuries and is an outstanding example of traditional Scandinavian wooden architecture. It brings together traces of Celtic art, Viking traditions and Romanesque spatial structures.
Photos from Landolia
More photos and localization on interactive Google Map
---
Posted by Simon Laroche
, June 12, 2012 at 12:28:31

Location Norway
Coordinates N62 34 26 E11 23 8
Date of Inscription 1980
Brief Description (http://whc.unesco.org/en/list/55

)
Røros Mining Town and the Circumference is linked to the copper mines, established in the 17th century and exploited for 333 years until 1977. The site comprises the Town and its industrial-rural cultural landscapes; Femundshytta, a smelter with its associated area; and the Winter Transport Route. Completely rebuilt after its destruction by Swedish troops in 1679, Røros contains about 2000 wooden one- and two-storey houses and a smelting house. Many of these buildings have preserved their blackened wooden façades, giving the town a medieval appearance. Surrounded by a buffer zone, coincident with the area of privileges (the Circumference) granted to the mining enterprise by the Danish-Norwegian Crown (1646), the property illustrates the establishment and flourishing of a lasting culture based on copper mining in a remote region with a harsh climate.
Photos from Landolia
More photos and localization on interactive Google Map
---
Posted by Simon Laroche
, June 12, 2012 at 07:51:23

Location Alta municipality, county of Finnmark, Norway
Coordinates N69 57 0 E23 10 59.988
Date of Inscription 1985
Brief Description (http://whc.unesco.org/en/list/352

)
This group of petroglyphs in the Alta Fjord, near the Arctic Circle, bears the traces of a settlement dating from c. 4200 to 500 B.C. The thousands of paintings and engravings add to our understanding of the environment and human activities on the fringes of the Far North in prehistoric times.
Photos from Landolia
More photos and localization on interactive Google Map
---
Posted by Simon Laroche
, August 19, 2010 at 06:41:51

Location Counties of Møre & Romsdal and Sogn & Fjordane, Norway
Coordinates N62 7 0.012 E7 10 0.012
Date of Inscription 2005
Brief Description (http://whc.unesco.org/en/list/1195

)
Situated in south-western Norway, north-east of Bergen, Geirangerfjord and Nærøyfjord, set 120 km from one another, are part of the west Norwegian fjord landscape, which stretches from Stavanger in the south to Andalsnes, 500 km to the north-east. The two fjords, among the world's longest and deepest, are considered as archetypical fjord landscapes and among the most scenically outstanding anywhere. Their exceptional natural beauty is derived from their narrow and steep-sided crystalline rock walls that rise up to 1,400 m from the Norwegian Sea and extend 500 m below sea level. The sheer walls of the fjords have numerous waterfalls while free-flowing rivers cross their deciduous and coniferous forests to glacial lakes, glaciers and rugged mountains. The landscape features a range of supporting natural phenomena, both terrestrial and marine, such as submarine moraines and marine mammals.
Photos from Landolia
More photos and localization on interactive Google Map
---