Philippines
Posted by Simon Laroche
, June 01, 2014 at 10:11:29 ::
Philippines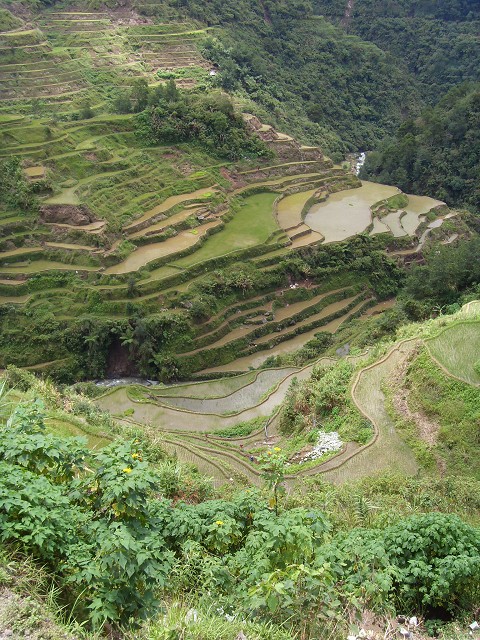 Rice terraces
The mud-walled Banaue rice terraces (Filipino: Hagdan-hagdang Palayan ng Banawe), also known as Musuan Peak, are the remnants of a 2000-year old rice plantation that ancestors of the indigenous people carved into the mountains of Ifugao. It's a National Cultural Treasure attraction, commonly referred to by Filipinos as the "Eighth Wonder of the World", that some argue is on par with the Great Wall of China, and for many visitors it is the sole reason for visiting this region. However, Banaue rice terraces were not included in the UNESCO inscription "Rice Terraces of the Philippine Cordilleras" due to the presence of numerous modern structures.
The best time to hike up and view the terraces is late in the afternoon, when they are backlit by the setting sun, and, as is to be expected, the higher you go, the better the view. And as these terraces are the major attraction here, guided tours and daily transport there and back, are readily available throughout the town.
To-Tam-An village
This easy-to-reach heritage attraction is a showcase village of weavers and carvers, where visitors can see the native huts, which are among the world's first prefabricated dwellings in that they do not use a single nail or piece of metal to fasten together. The village replicates the typical life of the Ifugao people, and the woodcarvings and weavings done here can also be purchased at their souvenir shop, at relatively reasonable prices.
The Banaue museum
The Banaue View Inn runs this museum, which contains books written decades ago by anthropologist Otley Beyer. There's also rare photographs and artifacts, including beads, baskets, pottery, woodcraft and woven materials, all of which depict various aspects of Ifugao history and material culture.
➜ Continue reading "Banaue and the province of Ifugao"
---
Posted by Germain Laroche
, May 04, 2014 at 18:21:13 ::
Philippines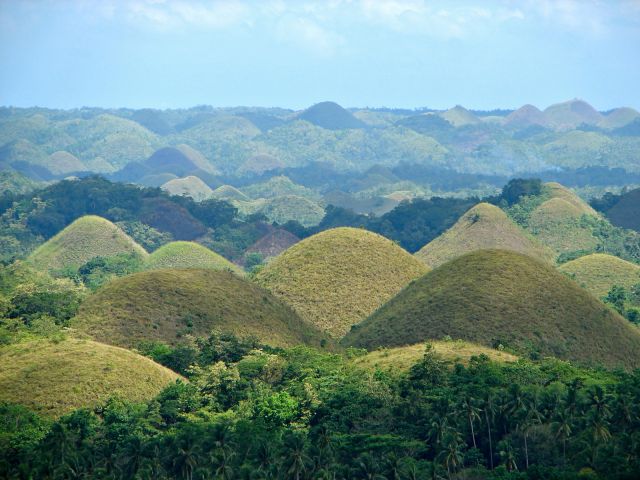 Chocolate Hills
The curious name of this island landmark comes from the fact that the vegetation here roasts to chocolate brown in the dry season, and seen in optimum viewing conditions – a hazy dusk or dawn – they can be quite picturesque. Motorbike tours along the winding roads leading up to the main viewpoint sites are readily available.
Tagbilaran Cathedral
Tagbilaran is the main commercial city of Bohol, and makes a good base from which to explore the island's natural wonders. While in town, a visit to this colossal church, also known as St Joseph the Worker Cathedral, is a must. Originally constructed in 1767, it was rebuilt and enlarged in 1855 after a disastrous fire.
Panglao Island
Scuba diving is what draws tourists to Panglao – the prime spots being Balicasag and Pamilacan islands, just south of Alona Beach – and dive resorts are everywhere. Snorkelers meanwhile can experience the refreshingly chilly waters of Hinagdanan Cave at the northern tip of the island, where salt and fresh waters meet in the underground tunnels.
➜ Continue reading "What to do in Bohol"
---
Posted by Christophe Le Corre
, March 02, 2014 at 09:39:31 ::
Philippines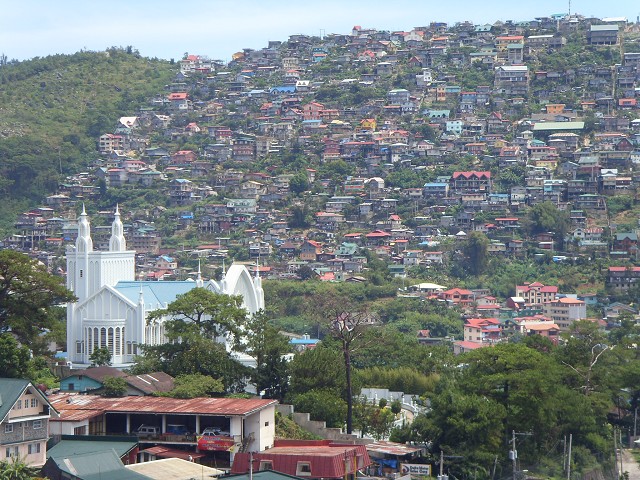 The City of Baguio is located at an altitude of 1450 meters above sea level in the middle of the island of Luzon, province of Benguet, on the Cordillera Administrative Region of Philippines.
Fun on the farm
The La Trinidad Strawberry Farm, in Benguet (just a short drive from Baguio City, the travel time takes about 25-30 minutes only) lets visitors pick their own strawberries and pay for their harvest afterward. The best season runs from November to May. For a more all-encompassing organic farm experience, visit ENCA Farms, an environmentally committed organization that produces high-quality 100% organic crops, including coffee, and vegetables such as lettuce, squash, eggplant, zucchini and pako (a native edible fern).
Mount Pulag
Standing tall at 2,922 m above sea level, mount Pulag is the third highest peak in the country and a very popular hiking destination. This mountain is great for seasoned climbers, but is still a first-rate destination for the novice, the uninitiated, or the mountaineering newbie. Located about 60 km from Baguio itself, reaching the peak here is like taking a walk in the clouds.
Baguio's City Market
If there's anything that captures the essence of Baguio, it's the city market. Located in the heart of the city, at the base of Session Road on Magsaysay Avenue, near Burnham Park, this 3sq. km maze of a market has a wet goods section selling fresh meats, fish and seafood from the lowland provinces, but in the dry goods section – the locals call it Marbay – there's a wide variety of classic Philippine handicrafts and souvenirs.
➜ Continue reading "The must-dos in Baguio"
---
Posted by Simon Laroche
, January 26, 2014 at 05:09:54 ::
Philippines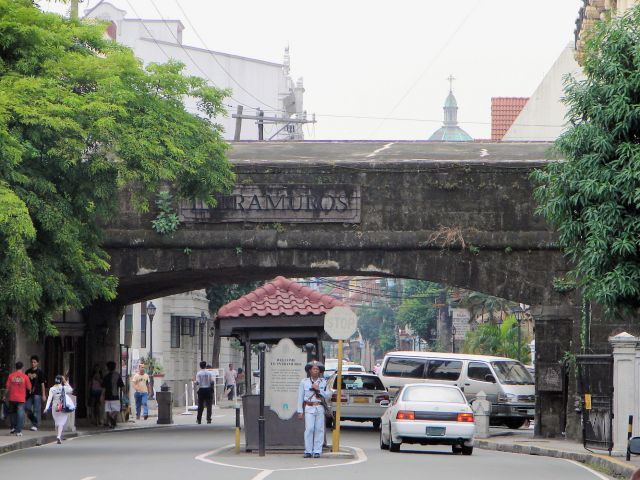 Intramuros walking tour
For history buffs, the first stop on any Manila itinerary is the walled city of Intramuros, the oldest district and historic core of the City of Manila, built by Miguel Lopez de Legazpi back in 1571. This imposing stronghold withstood Chinese pirates, Dutch colonial forces, as well as the British, American and Japanese occupation, but was finally destroyed, in the final days of WWII, by US bombing. Its massive walls were home to imposing government buildings, stately homes (including the restored period home known as Casa Manila), churches, convents, monasteries, and cobbled plazas. Today most of the walls, gates and bulwarks are accessible, and walking tours can be arranged through the Intramuros Visitors Center at the entrance to Fort Santiago.
Historic churches
The San Agustin Church, built over 400 years ago, was the only building left intact after the destruction of Intramuros, and it remains the oldest church in the Philippines. The massive façade conceals an ornate interior, complete with painted frescoes on the vaulted ceiling. Meanwhile the Manila Cathedral (Manila Metropolitan Cathedral-Basilica), dedicated to the Blessed Virgin Mary as Our Lady of the Immaculate Conception and located in the grand Plaza de Roma in the Intramuros district of Manila, boasts a weathered Romanesque façade and ornate cupola outside, and a gilded altar, 4500-pipe organ, and beautiful stained glass inside.
➜ Continue reading "The must-dos in Manila"
---
UNESCO World Heritage
Posted by Simon Laroche
, May 03, 2013 at 14:12:47
Location Palawan Province, Philippines
Coordinates N10 10 0 E118 55 0
Property 5,753 ha
Date of Inscription 1999
Brief Description (http://whc.unesco.org/en/list/652

)
This park features a spectacular limestone karst landscape with an underground river. One of the river's distinguishing features is that it emerges directly into the sea, and its lower portion is subject to tidal influences. The area also represents a significant habitat for biodiversity conservation. The site contains a full 'mountain-to-sea' ecosystem and has some of the most important forests in Asia.
Photos from Landolia
More photos and localization on interactive Google Map
---
Posted by Simon Laroche
, May 03, 2013 at 14:03:06
Location Vigan, Province of Ilocos Sur, Philippines
Coordinates N17 34 30 E120 23 15
Date of Inscription 1999
Brief Description (http://whc.unesco.org/en/list/502

)
Established in the 16th century, Vigan is the best-preserved example of a planned Spanish colonial town in Asia. Its architecture reflects the coming together of cultural elements from elsewhere in the Philippines, from China and from Europe, resulting in a culture and townscape that have no parallel anywhere in East and South-East Asia.
Photos from Landolia
More photos and localization on interactive Google Map
---
Posted by Simon Laroche
, May 03, 2013 at 13:55:39
Location Municipality of Cagayancillo, Province of Palawan, Philippines
Coordinates N8 57 12 E119 52 3
Property 130,028 ha
Date of Inscription 1993
Brief Description (http://whc.unesco.org/en/list/653

)
The Tubbataha Reef Marine Park covers 130,028 ha, including the North and South Reefs. It is a unique example of an atoll reef with a very high density of marine species; the North Islet serving as a nesting site for birds and marine turtles. The site is an excellent example of a pristine coral reef with a spectacular 100-m perpendicular wall, extensive lagoons and two coral islands.
Photos from Landolia
More photos and localization on interactive Google Map
---
Posted by Simon Laroche
, May 03, 2013 at 13:45:35
Location Immaculate Conception: District of Intramuros, City of Manila Nuestra Senora: Municipality of Santa Maria, Province of Ilocos Sur San Agustin: Municipality of Paoay, Province of Ilocos Norte Santo Tomas: Municipality of Miag-ao, Province of Iloilo, Philippines
Coordinates N14 35 24 E120 58 12
Date of Inscription 1993
Brief Description (http://whc.unesco.org/en/list/677

)
These four churches, the first of which was built by the Spanish in the late 16th century, are located in Manila, Santa Maria, Paoay and Miag-ao. Their unique architectural style is a reinterpretation of European Baroque by Chinese and Philippine craftsmen.
Photos from Landolia
More photos and localization on interactive Google Map
---
Posted by Simon Laroche
, October 27, 2009 at 06:01:16
Location Ifugao Province, Cordillera Region, Luzon Island, Philippines
Coordinates N16 56 2.004 E121 8 12.012
Type Cultural
Date of Inscription 1995
Brief Description (http://whc.unesco.org/en/list/722

)
For 2,000 years, the high rice fields of the Ifugao have followed the contours of the mountains. The fruit of knowledge handed down from one generation to the next, and the expression of sacred traditions and a delicate social balance, they have helped to create a landscape of great beauty that expresses the harmony between humankind and the environment.
Photos from Landolia
More photos and localization on interactive Google Map
---