Turkmenistan
Posted by Simon Laroche
, September 28, 2008 at 13:56:33 ::
Turkmenistan
Ashgabat
(Aşgabat in Turkmen, Ашхабад (Ašxabád) in Russian, and عشق‌آباد (UniPers: Ešq-âbâd) in Persian) (or formerly Ashkhabad or Poltoratsk) is the
capital
and largest city of
Turkmenistan
, a country in
Central Asia
. It has a population of 695,300 (2001 census estimate) and is situated between the Kara Kum desert and the Kopet Dag mountain range.
Ashgabat
has a primarily Turkmen population, with minorities of ethnic Russians, Armenians, and Azeris. It is 250 km from the second largest city in
Iran
,
Mashad
.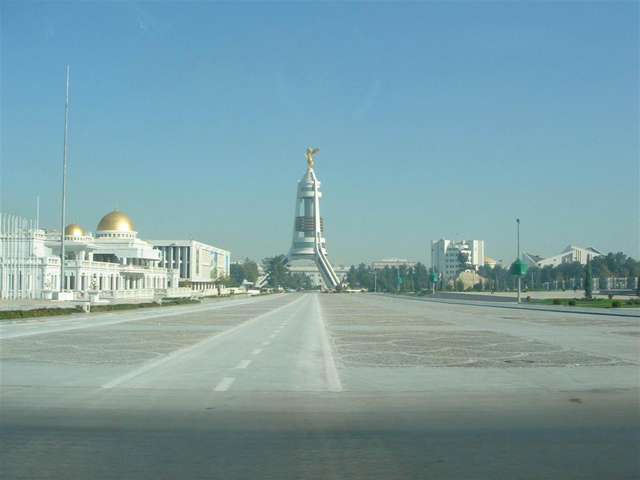 Ashgabat is a relatively young city, growing out of a village of the same name established in 1818. Its original founding fathers were Russian troops who landed in
Krasnovodsk
(present-day Turkmenbashy) in 1869 and who built a fortress on a high hill to accommodate their administation. In subsequent years this fortress, serving as a focal point, attracted a host of merchants and entrepreneurs who sought to expand their markets and enter new adventures. For their center of activity, the newcomers built a number of buildings and factories on the other side of town around the
Transcaspian Railway
station. Today, large numbers of tourists visit Ashgabat and
Nisa
, the ancient capital of the Parthians, a short distance from Ashgabat.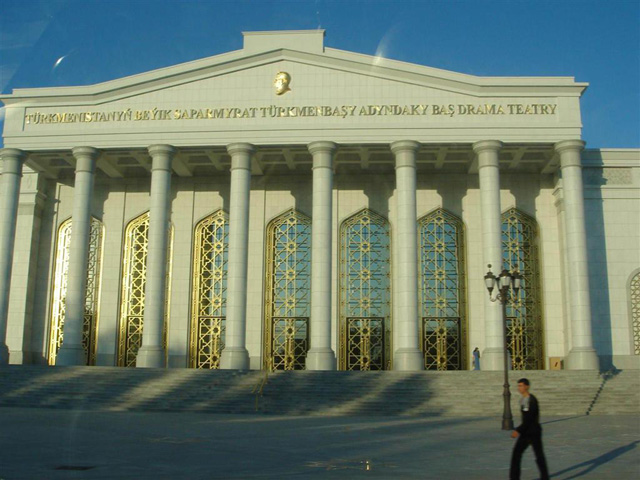 Major
places of interest
in Ashgabat include the
Turkmen Fine Arts Museum
which, among other things, houses a collection of very beautiful Turkmen carpets. One of the carpets on display, among the largest and heaviest in the world, covers an area of 193.5 square meters and weighs 885 kilograms. The
Turkmen History Museum
contains over 30,000 archeological and ethnographic items dating back to the region's Parthian days. And the Exhibit Hall of the Ashgabat Carpet Factory with its collection of rare hand-woven carpets. A main feature of this Hall is a unique double-sided carpet.
Visit
Ashgabat
and
Turkmenistan
now on Landolia.
---
UNESCO World Heritage
Posted by Simon Laroche
, September 20, 2013 at 04:51:44

Location Bagyr settlement, Etrap of Rukhabad, Akhal Vilayet, Turkmenistan
Coordinates N37 59 59 E58 11 55
Property 78 ha
Date of Inscription 2007
Brief Description (http://whc.unesco.org/en/list/1242

)
The Parthian Fortresses of Nisa consist of two tells of Old and New Nisa, indicating the site of one of the earliest and most important cities of the Parthian Empire, a major power from the mid 3rd century BC to the 3rd century AD. They conserve the unexcavated remains of an ancient civilization which skilfully combined its own traditional cultural elements with those of the Hellenistic and Roman west. Archaeological excavations in two parts of the site have revealed richly decorated architecture, illustrative of domestic, state and religious functions. Situated at the crossroads of important commercial and strategic axes, this powerful empire formed a barrier to Roman expansion while serving as an important communication and trading centre between east and west, north and south.
Photos from TWIP
---
Posted by Simon Laroche
, September 20, 2013 at 04:15:46

Location Dashoguz Vilayet (Province), Turkmenistan
Coordinates N42 10 59.448 E59 5 5.784
Date of Inscription 2005
Brief Description (http://whc.unesco.org/en/list/1199

)
Kunya-Urgench is situated in north-western Turkmenistan, on the left bank of the Amu Daria River. Urgench was the capital of the Khorezm region, part of the Achaemenid Empire. The old town contains a series of monuments mainly from the 11th to 16th centuries, including a mosque, the gates of a caravanserai, fortresses, mausoleums and a 60-m high minaret. The monuments testify to outstanding achievements in architecture and craftsmanship whose influence reached Iran and Afghanistan, and later the architecture of the Mogul Empire of 16th-century India.
Photos from TWIP
---
Posted by Simon Laroche
, September 11, 2013 at 13:06:22

Location Mary Vilayet, Turkmenistan
Coordinates N37 42 2.988 E62 10 39
Property 353 ha
Date of Inscription 1999
Brief Description (http://whc.unesco.org/en/list/886

)
Merv is the oldest and best-preserved of the oasis-cities along the Silk Route in Central Asia. The remains in this vast oasis span 4,000 years of human history. A number of monuments are still visible, particularly from the last two millennia.
Photos from TWIP
---