Posted by
Germain Laroche
, September 24, 2013 at 09:40:00 ::
India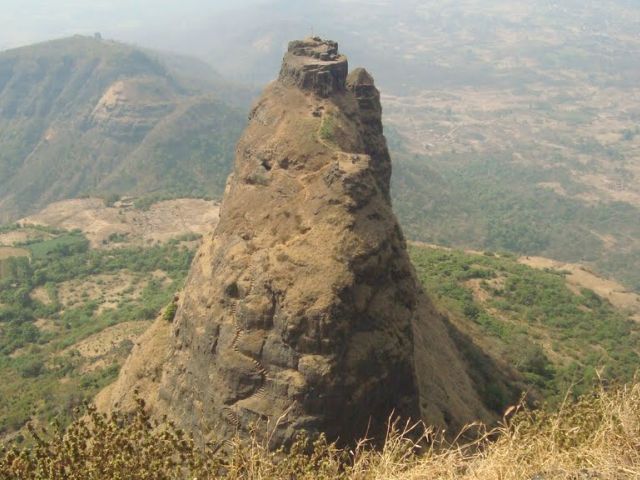 Kalavantin Durg is considered as one of the best trekking spots located at an elevation of 2300 feet in the Sahyadri mountain range. Situated adjacent to Prabalgad Fort on the Mumbai Pune expressway, Kalavantin Durg is fairly a picturesque area to check out. It is located close to Panvel (about 17 Km), in Raigad district, Maharashtra state, India.
The trek which begins from base village of Shedung, takes about 3 hours. Kalavantin Durg pinnacle is tougher. First it has some steps carved into the rock and then few more but muddy path near the pinnacle. Reaching Kalavantin Durg is relatively a tough affair and is recommended for experienced trekkers. A number of instructions must be followed during the trek to ensure maximal safety. There is no source of water there, so carry at least 3 or 4 litres.
The fort top, which was used as a watch tower, commands an excellent view of the surroundings with Prabal in the front. From the peak of the hill you can see Chanderi, Matheran, Ershal, Peh, and Karnala forts and also Mumbai city.
Things to know:
Kalavantin Durg and its neighbor, the fort Prabalgad, stand on this plateau called Prabalmachi,
Prabalmachi is an hour walk from the base village of Thakurwadi,
Thakurwadi is approximately 25 kilometres from Panvel,
According to stories, the fort was built for a queen named Kalavantin,
October to May is the most recommended time to go there. You need to stay away from trekking in monsoons as the steps get very slippery.
Visit more interesting places in India now on Landolia.