Posted by
Germain Laroche
, February 23, 2014 at 04:03:02 ::
Burma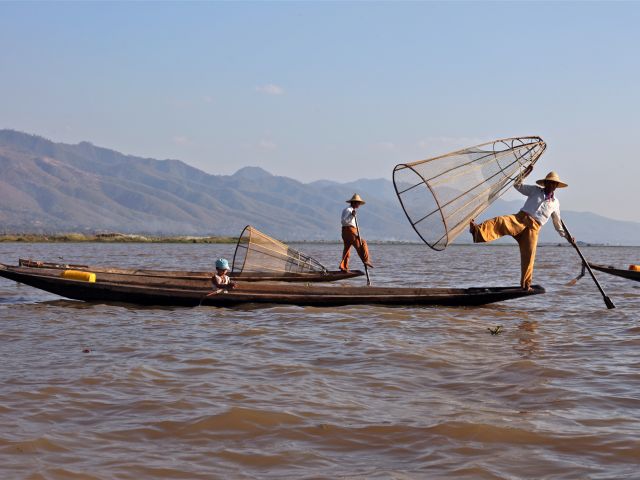 Inle Lake is a large body of freshwater located in the Nyaungshwe Township of Taunggyi District of Shan State in Myanmar, over 120 square kilometers of labyrinthine side canals, endemic fish and snail species, and the longtime home of the Intha fishermen, famed for their one legged rowing techniques. Since the lake is filled with floating reeds and plants, the fishermen have to stand up on their boats to see what lies ahead, and thus they have developed this marvelously agile method of rowing their boats, using one leg to wrap around and hold the oar and paddle, which allows them to remain standing. This, in turn, keeps their hands free for working with their fishing traps and baskets.
A model for cottage industries and self-sufficiency
The entire lake is a model for cottage industries and self-sufficiency, as the Intha have learned how to live entirely upon, and with, the water. Floating fruit and vegetable gardens, made by hand from reeds and plants, grow abundantly, feeding families along with the nga pein Inle carp that frequent the center of the lake en masse. Homes, and in fact entire communities, are built on stilts above the water, and in addition to farming, the locals engage in a profitable cheroot (cigar) rolling industry, as well as weaving silk from the fibers of lotus flowers, which are grown in the floating gardens.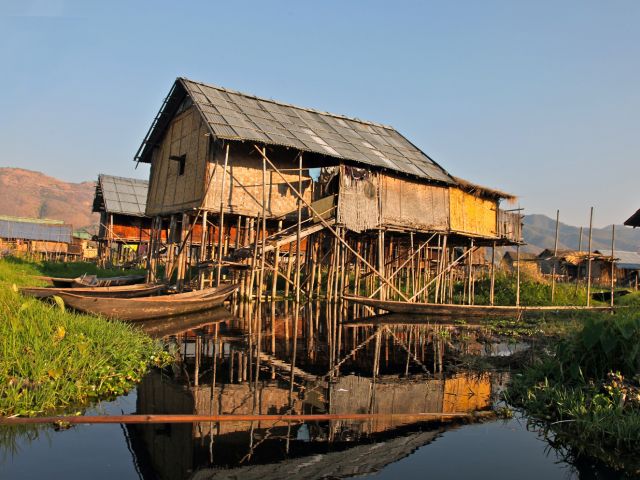 The vegetables grown on the lake are not only for family consumption, as they are also sold at local markets that rotate daily around the shores of Inle. Ethnic hill tribe groups that inhabit the mountains around Inle come down to buy, sell, and trade, as well as engage in plenty of socializing, and drinking of potent fermented rice wine – often pausing from their bartering to smoke large cheroots and exchange pleasantries. There are many different minorities here, but the Pa-O, renowned for growing the colorful yellow mustard seed fields that dot the landscape around the lake, along with the Danu people, make up the majority of the market goers.
Surrounded by old temple ruins
In addition to the colorful hill tribes, Inle Lake is the site of many old temple ruins. The small hamlet of Indein features a hillside swathed in pagodas, while the more remote Kakku temple complex is like a lost world where several thousand small Buddhist stupas perch in a hidden valley deep in Pa-O country.
Trekking around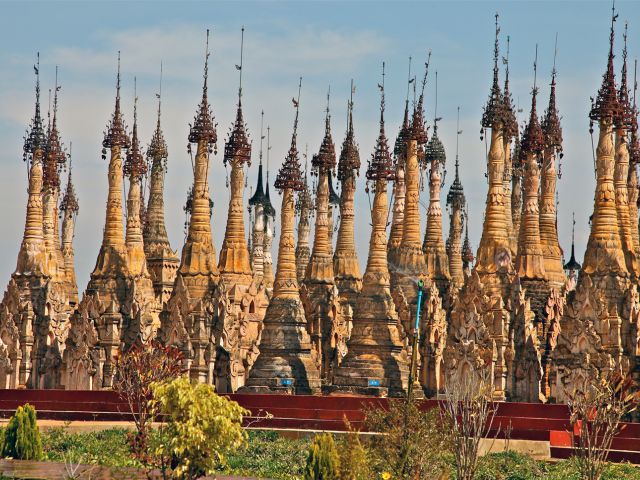 From the shores of the lake, paths and dirt roads snake their way into the nearby mountains and those looking for adventure can head west towards Kalaw, where there is even a sizeable Nepali community, made up of the families of Gurkha soldiers who came to Burma during the British rule and WWII and never left. This is the only area of Myanmar where one can trek without any kind of permit or paperwork necessary, and the rewards are plentiful, as the postcard perfect scenes of sleepy rural Myanmar are displayed around every bend. Women with their faces painted in thanaka paste carry loads of firewood home, and colorful fields abundant in ripe chilies and mustard seed sit in wide valleys like something out of an impressionist painting. Much of the heavy farm labour here is still done entirely by oxen, and exquisitely carved wooden carts made of teak are visible as one passes through the fields. And everywhere wide-eyed children still look at foreign visitors with this sweet mixture of fear and amazement.
Moving into the future
However Inle is also moving into the future, along with the rest of Myanmar, and the country's first winery and vineyard has set up shop above the lake. As well, some well-heeled resorts are going up amongst the reeds, and adventure activities such as kayaking and mountain biking are poised to be part of the Inle experience. But for the most part, time appears to remain standing still. Arising at dawn, the lake is bathed in beautiful light, the water flat and completely silent, broken only by the ripples coming from a one legged rower slowly making his way out for some early morning fishing. Myanmar has always been known for its precious stones, but Inle is indeed its finest gem.