Posted by
Germain Laroche
, May 04, 2014 at 18:21:13 ::
Philippines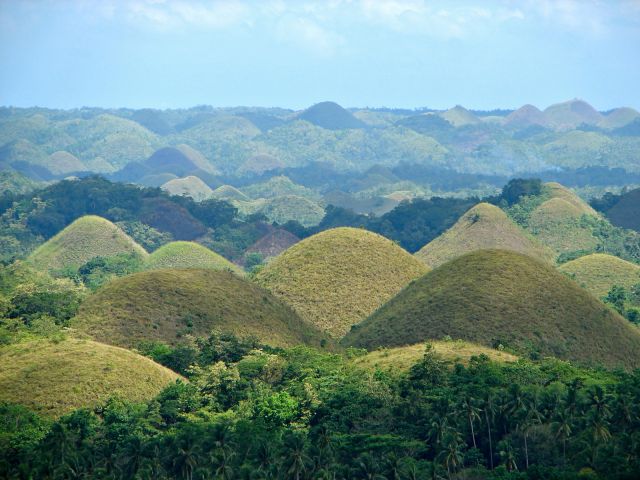 Chocolate Hills
The curious name of this island landmark comes from the fact that the vegetation here roasts to chocolate brown in the dry season, and seen in optimum viewing conditions – a hazy dusk or dawn – they can be quite picturesque. Motorbike tours along the winding roads leading up to the main viewpoint sites are readily available.
Tagbilaran Cathedral
Tagbilaran is the main commercial city of Bohol, and makes a good base from which to explore the island's natural wonders. While in town, a visit to this colossal church, also known as St Joseph the Worker Cathedral, is a must. Originally constructed in 1767, it was rebuilt and enlarged in 1855 after a disastrous fire.
Panglao Island
Scuba diving is what draws tourists to Panglao – the prime spots being Balicasag and Pamilacan islands, just south of Alona Beach – and dive resorts are everywhere. Snorkelers meanwhile can experience the refreshingly chilly waters of Hinagdanan Cave at the northern tip of the island, where salt and fresh waters meet in the underground tunnels.
Cabilao Island
Another excellent dive spot, the waters off this island are home to 7 species of shark, but it's the tiny pygmy seahorse (8mm long) that draws the crowds. The island's top reef is off the northwestern point, near the lighthouse, and dive shops can accommodate beginners and professionals alike.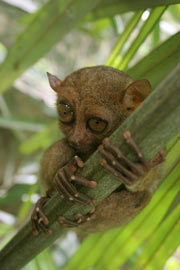 Tarsier Visitors Center
Tarsiers are tiny, nocturnal, tree-dwelling primates with very large eyes, long fingers, and a head that can rotate almost 360 degrees. Found only in the islands of Southeast Asia, these creepy-cute critters have become an icon of Bohol. However the illegal pet trade is pushing them closer to the brink of extinction, which is why The Philippine Tarsier Foundation, which includes a captive breeding program, a wildlife sanctuary, and a hiking trail, is the best place to see tarsiers in their natural environment.
Bohol Fiesta
The Bohol Fiesta, running from April to May, is a giant island-wide festival celebrating St Joseph. July is also a party month in Bohol, with the Sandugo Festival kicking tings off at the beginning of the month, and numerous arts, culture, and agricultural fests following after.
More things to do in Philippines: