Landolia brand guidelines
Posted by
Simon Laroche
, last edited on February 17, 2014 at 11:23:39
A strong visual identity contributes to the Landolia's reputation.
This information has been designed and presented to ensure that the Landolia brand is marketed in an appropriate and consistent manner.
The Landolia Branding Guidelines identify the online design elements that should be consistent across websites. These include the Landolia logo, typography, color palette and other elements that, together, provide a cohesive look and feel across the Landolia web.
If you'd like to make any use of our marks in a way that is not covered by this document, you must contact us at

and include a visual mockup of intended use.
The Master Brand
Landolia has a SINGLE identity for the Landolia brand known as the Master Brand identity which contains the elements below.


Download the Master Brand Logo .PNG
Identity variations
Do not modify or alter the marks or use them in a confusing way, including suggesting sponsorship or endorsement by Landolia, or in a way that confuses Landolia with another brand.
Feel free to adjust the size. Use these marks in a readable size.
Official Colors
You're encouraged to use the official Landolia colors when displaying the logo and marks.

Earth tone 1
#4b3827

Earth tone 2
#826c59


Earth tone 3
#aaa189


Very light gray
#dddddd

Maroon #800000 for the brand name
Wheat #f5deb3 for the Sroke Effect (not required)

Seal brown #321414 for the slogan
Desert sand #edc9af for the Stroke Effect (not required)
Fonts
Our brand typeface is Simple tfb.
Our slogan typeface is Arial Rounded MT Bold.
Promoting Landolia Photos
Do:
Create your own icons, buttons and banners using and respecting our official colors.
Change the slogan "a World of Photos" by another one such as "Paris in Photos" or "China in Photos" if you want to promote "Paris" or "China", also adapt the link to our Paris page or China page.
Don't:
Change or remove the brand name Landolia
Rotate these marks
Obstruct them
Add extraneous effects
Identity Variations - What and What Not to Do
Small banner using official colors


Slogan variation: Paris in Photos

---

Icon 16x16 pixels on a transparent background


Slogan variation: China in Photos

---

Changing Brand Name color


Logo/banner obstruction

---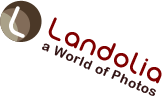 Identity rotation


Changing backgound colors

Logo Inspiration Gallery
Check our Creative Logos Showcase.
---
Landolia reserves the right to modify these Guidelines at any time.
© Landolia – Last revised: August 2013